Time for some Penguins math:
Subtract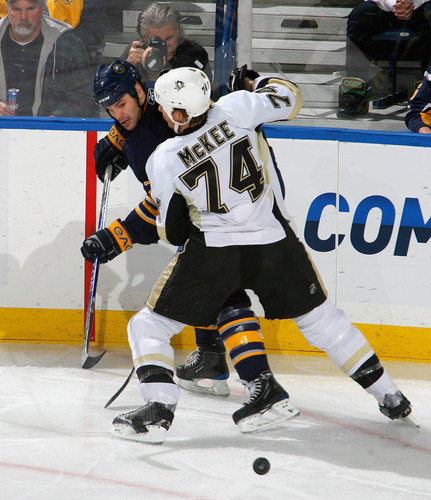 Add:
And what does that equal?
Hopefully solid defense and puck movement that doesn't allow the opposition to walk into the zone and get a clear shot, especially if the opposition is named Ovechkin or Cammalerri. The 2009-10 Pittsburgh Penguins defense can only be described in one word from a former coach, "soff." They let the opposition have every chance possible to get off a clear shot when they entered the offensive zone.
Projected Defensive Pairings:
1st pairing:
Orpik-Michalek
We all know what Brooks Orpik brings to the table. A lot of hits, very hard hits. Last year, Brooks stepped up the offense a bit, playing alongside now Ottawa Senator, Sergei Gonchar. The unknown of this pairing is Zbynek Michalek, the Czech player came over from the Phoenix Coyotes, who played a close first-round series with the Detroit Red Wings. As luck would have it, over the past few years I have caught quite a few 'Yotes games and Michalek was one of the ones who stood out the most in a good way. He is extremely strong defensively, ala Rob Scuderi and Mark Eaton build, blocks everything in his path, ala Jay McKee, has a pretty solid shot and can occasionally lay a massive check on the unsuspecting forward.
2nd pairing:
Martin-Letang
Kris Letang is entering another year as a Pen and he looks better than ever. Faster, more physical, and with a harder shot. He still needs to work on hitting the net, but when he does, there's a good chance it will be in the back of the net. The signing of Paul Martin was the big Free Agency news of the offseason for the Pens and with good reason. Buyer be warned, he is not Sergei Gonchar, he's better, but in a much different way, he actually plays defense. The former Devil only played 1/8 of the season last year after being injured in a game against the Pens, but is looking to come back with a strong year. He'll get some time alternating as PP QB on the top unit with Gogo and should have a career year for points.


3rd pairing:
Goligoski -Lovejoy
Well, I don't know where to begin with this pairing. Gogo is still young and unsure defensively, but will be the top PP QB. He still needs to work on positioning and stickwork, but his offensive skills should more than make up for it. It looks like at this point, 2 days away from the Home Opener, Ben Lovejoy has won the 6th spot and he's earned it through hard work and dedication, but it is yet to be seen whether he'll stay.
7th defenseman:
Engelland
Big, physical defenseman, who could substitute for Lovejoy in the 6th spot or fill in for an injured player.
Overview:
This is a different defense than this team is ever used to having. If you were a fan of the 2008 defense with Eaton, Gill, and Scuderi, you will probably love this defense. This is one of the best defensive squads the team has ever had on paper and it looks like the Penguins could provide some solid support for the offensive firepower that runs the team. The biggest benefit to this improved defense is that Fleury will see a lot fewer pucks and the ones that are seen should be from low-percentage angles. The 2009-10 Penguins team biggest weakness has now improved to one of the team's biggest strengths, which makes this team beyond dangerous.